How to Start Processing Game
There's a right way to do things, and there's every other way. That's what our Dad taught us and his Dad taught him. That's why at LEM, we know the hunt doesn't end when the buck hits the ground; it ends when we all sit down at the table.
That may sound like it's easier said than done, but we're going to walk you through everything you need to start processing your own game at home. We'll start with field dressing blades and take you all the way to seasoning and stuffing your own sausage. Who needs a local processor? You can be the boss of every piece of meat you put on your family's plate. And if you're intimidated, don't be. LEM equipment exists to simplify this whole process.
All The Know-How You Don't Know
Everyone who knows anything had to learn it sometime. Here's your chance to bone up on the finer points of field dressing, butchering, and breaking down your kills. And whether it's just a refresher course or you're starting from scratch, books and how-to DVDs can be a big help for anyone that didn't get an education in game processing when they were young.


Tools For Field Dressing
Having the right tools out in the field will make all the difference when it comes time to hang and prep that kill. You'll need a field dressing kit, complete with a field dressing knife, a skinner, and much more for after the deer's had a chance to hang. Both blades are built for specific uses, and while you can get along without them, once you have a set, you'll wonder how you ever did.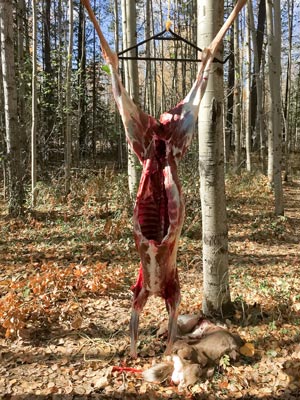 Once you've gotten your deer out of the forest and maybe stored it somewhere cool for a bit so it can drain, you're ready to put that skinner to work, right? Not so fast. A gambrel gets that meat up off the ground and makes the process easier. You might even consider a hoist and collapsible gambrel set. With one of these, a single person can lift a 500-lb deer. It's like a helping hand from LEM to you. Finally, a set of shoulder-length poly gloves keeps you and your game clean and minimizes exposure to bacteria.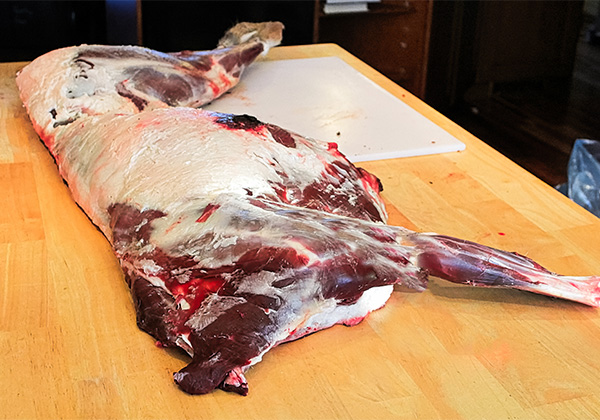 Once you're home, let your game hang, skinned, quartered, and removed all the stray hairs, the first question you need to answer is where you want to set up your processing station. Many folks find a space in their shed or garage with enough workspace for their equipment, but you can use the kitchen, basement, or whatever space is most convenient to you. No matter how much (or little) space you've got, we have a solution that fits your need. At a minimum, we recommend at least a table with 6 ft. by 4 ft. of space. Start small with one of our smaller grinders like the Mighty Bite #8, and you can grow to a bigger setup down the road.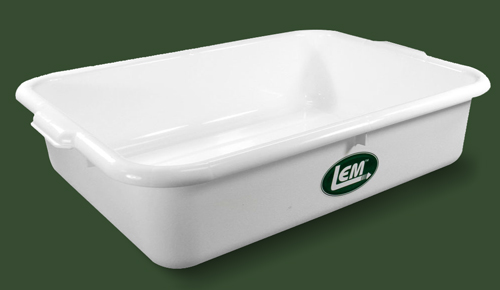 As you break down your game into smaller pieces, cutting boards and meat lugs are really helpful tools. The first gives you a clean and sanitary prep surface, and the second gives you a way to transport or temporarily store the meat, or mix in your seasoning when it's time. Meat saws and electric meat slicers help you go from big hunks of meat to the smaller pieces you can actually begin to prepare. And whether an electric or a manual, you want your meat saws capable of cutting through meat and bone.
The Finer Points Of The Process
Once you've broken down your game into smaller pieces, you're ready to tenderize, grind, season, dehydrate, freeze, or smoke.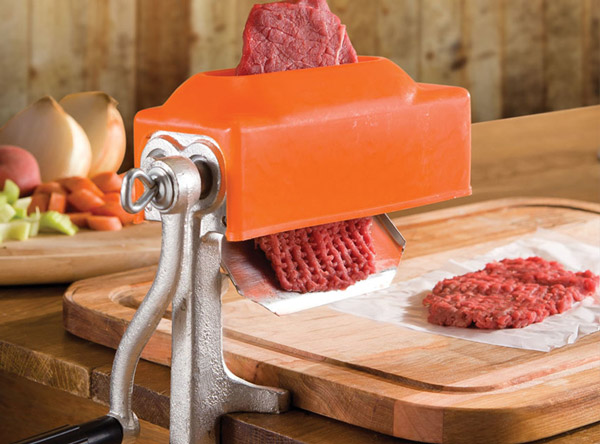 Meat Tenderizers help break up some of that muscle fiber and give you a more tender piece of meat. The Big Bite 2 in 1 Jerky Slicer / Tenderizer attaches to the Big Bite grinder and gives you 14 perfect jerky strips sliced and ready for the oven or dehydrator in seconds.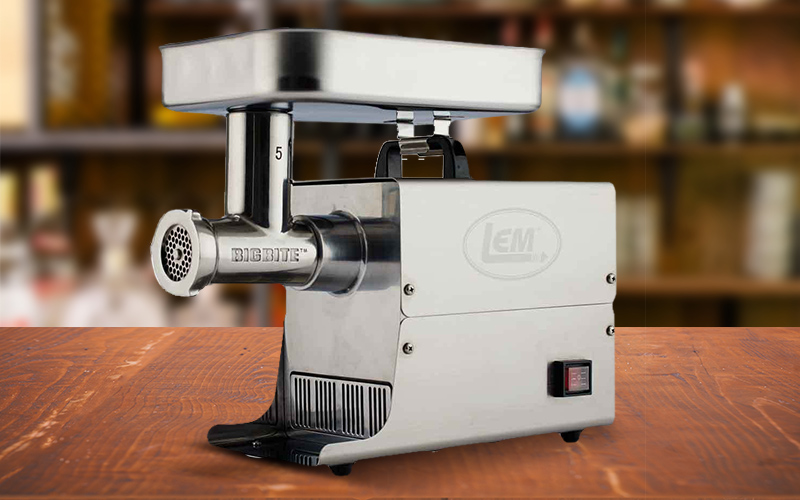 Speaking of the Big Bite grinder, if you're short on space but still want to process your own game, you might consider the #5 Big Bite Grinder. At .35 horsepower, it can grind approximately 4 pounds per minute but is still the most compact version of all our Big Bite Grinders. It's a lot of power in a little package. On the other end of the spectrum, our #32 Big Bite Grinder's 1.5 HP motor grinds approximately 17 lbs. per minute. That's professional grade.
Freshly ground meat just begs for seasonings, and whether it's sausage and jerky, chunks of high temp cheese, or a vast array of flavor enhancers, a Meat Mixer saves you some manual labor and delivers a more consistent blend. It does this by combining your meat, seasonings, and ingredients together without the cold hands that can make the process such a pain.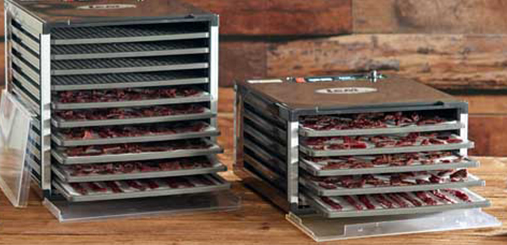 Once you've cut, prepped, and mixed together your meat and seasonings, you'll want to package them into something you can store or share. A Sausage Stuffer turns ground meat into kielbasa, breakfast sausage, or just plain-old mouthwatering sausage for the grill. Food Dehydrators not only turn strips of meat into jerky; they can also be used on fruits, berries, herbs, vegetables, and even dog treats.
Wrapping It Up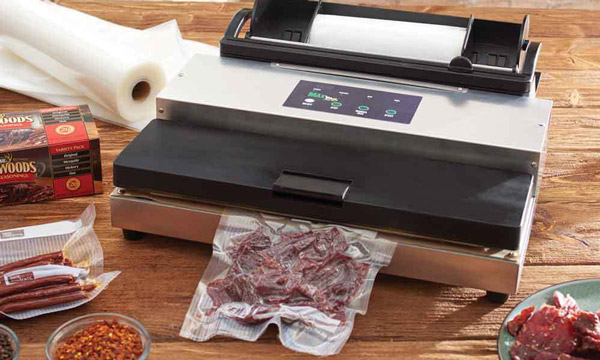 Whether it's because you can't cook and eat it all at once, or because you want to get back out in your stand, sometimes you need to prep your game for the freezer. A vacuum sealer will significantly extend the freshness of your meat so it's ready when you are. It keeps air and freezer burn out of your packaging, and can help ensure your meat tastes just as good in a few months as it does when you put it into the freezer.
A Recap
If you were to pick just ten things from this post and start from there, these are the ones we'd recommend. This list will get you outfitted and ready to start making delicious burgers, sausages, and jerky.
Field Dressing Knife Kit
Hoist and collapsible gambrel set
Cutting boards
Meat lugs
Meat Saw
Meat Slicer
Big Bite Grinder
Meat Mixer
Sausage Stuffer
Food Dehydrator
When it comes to processing your own game, there is no one size fits all. At LEM, we know how complicated this can seem, but that's why we're here. When LEM opened its doors in 1991, the goal was to simplify this process. And thirty years later, we're still hunting for every chance to do just that and make it easier for every family and hunter to enjoy the experience of processing their own game.
If you're just starting out, try having your local processor break down your next kill and finish the process yourself with just a grinder or a sausage stuffer. You'll be amazed at how much control you have, and how much easier than you imagined it is. And if you're ready to go all in, LEM has everything you need to finish the hunt.
Now, get out there and go find dinner.
Posted with permission from LEM Products